Speed up and save this September
600Mbps for only £26 a month
Welcome to WiFi without the dead spots, as you stream, scroll, game and work on multiple devices around the home. Get our 600Mbps package for only £26 a month, includes a router and FREE additional WiFi node worth £108. Offer ends 30th September.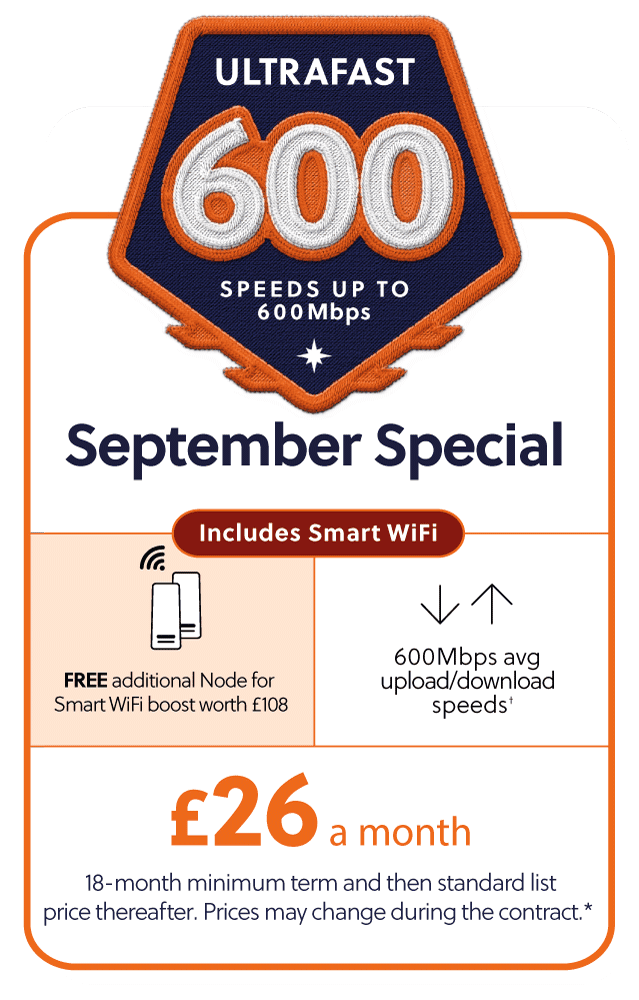 Get ready to blast off!
Big speeds. Small price.
Click here for more information about our Linksys WiFi 6 routers and Smart WiFi. All our packages have free standard installation, no activation fees. These prices are applicable to new Gigaclear customers only. Prices, content and terms may change during your contract, see Terms and Conditions for details.
See how we
compare on speeds
The speeds and packages we're comparing above are our competitors' Fibre to the Cabinet (FTTC) connections widely available to respective providers' customers against Gigaclear's Fibre to the Premises (FTTP). Please bear in mind that some of our competitors do also offer FTTP packages, but they're only available to a limited group of their customers. Speed claims based on average download speeds. Gigaclear average speed claims based on a hard-wired connection. Information correct as of 1/8/2023
Prefer to talk to someone?
Give one of our UK-based advisors a call and we will help you choose the right package for you.
Call 03708 637 606
Giga-powered speeds
Download up to 15x faster and upload up to 77x faster than standard fibre - no sweat~
Multi-device happy
Enough horsepower for the family to game, stream and surf, all at once
Smart WiFi for complete coverage
No more searching for signals
Get Gigaclear
Powerful WiFi
that doesn't play hide and seek
Our high-end Smart WiFi router gives you a more powerful WiFi performance. Plus we offer Smart WiFi Mesh options for even better coverage, bringing city internet speeds to rural areas
Test your speed
How fast is your current broadband connection? Test your current broadband speed then compare it to our full fibre packages below. How much faster could you go?
---
Home Phone is now available
Great news, you can now add a Home Phone call plan to any of our broadband packages. Call plans start from only £3 a month and you can choose to keep your existing phone number. The service runs through the full fibre cables so you'll have crystal clear audio at a brilliant price.
Switching is easy
Pick a package
Choose from super, ultra or even hyperfast speeds
Pick an installation date
So we know when to pop round
Hassle-free connection
Our engineers will connect your home & set up your WiFi
Find Out More
The legal bits: Sky Stream